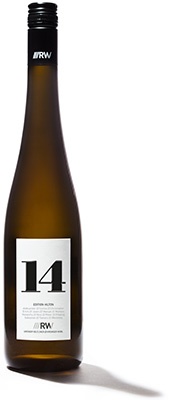 ///RW 14 – Edition Hilton
GRÜNER VELTLINER KREMSER KOBL Kremstal DAC
Our 'apprentice wine', which we produce every year in collaboration with 14 apprentices of the Hilton Hotel in Vienna. The young women and men work with us in our vineyard and cellar for a year and produce their own wine. The ///RW 14–Hilton Edition is available at all three Hilton Hotels in Vienna. This Grüner Veltliner is typical for its grape variety and its region, with the characteristically fruity charm of our "Kremser Kobl" vineyard in Kremstal. The approximately 30 years-old vineyard consists of mixed soils (loess, limestone) and is one of our top vineyards.
From the specialist magazine Falstaff
Medium yellow-green, silvery reflections. Fine yellow apple, a hint of mango and pineapple, underlying delicate herbal spiciness. Juicy, elegant, subtly integrated fruit sweetness, balanced, fine echoes of blossom honey.